Fruit, Vegetable & Berry Blend Capsules
Juice Plus+ Essentials Capsules
Fruit, Vegetable & Berry Blend
Build a solid nutritional foundation for yourself and your family.
This trio provides added nutrition from 30 different fruits, vegetables, and berries, PLUS other plant ingredients. It helps you increase your intake of vitamins, antioxidants, and other nutrients . Discover ingredients from red and orange fruits like apples and oranges; green veggies like broccoli and kale; and deep-blue and purple berries and grapes like blueberries and elderberries.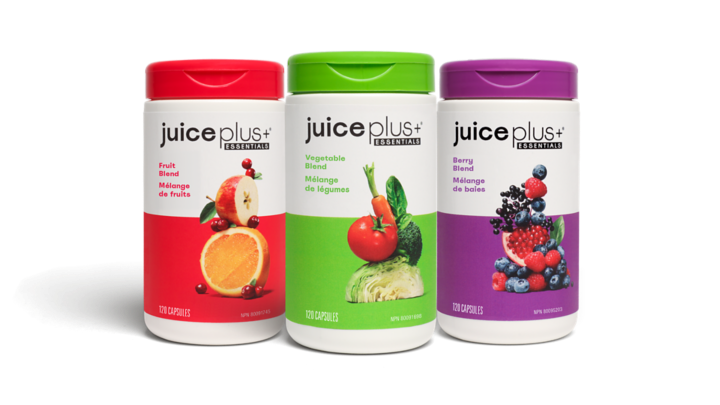 Supports the function of the immune system

Combined results from 4 publications show that Juice Plus+ supports the function of the immune system.

Source of Antioxidants that help protect cells against oxidative stress caused by free radicals.

Juice Plus+ Fruit, Vegetable & Berry Blend capsules increase skin micro-circulation and boost skin hydration, thickness, and density. 

Helps to maintain the body's ability to metabolize nutrients.
---
Nourish to flourish.

Our Fruit, Vegetable, and Berry Blend capsules provide added nutrition from 30 different fruits and vegetables, to help you bridge the gap between what you should eat, and what you do eat, every day.
Which fruits and vegetables can you find in Juice Plus+ Capsules?
Product Overview
Plant-based
Vegan
Whole food based
Clinically tested
Gluten-free
Certified non-GMO
Certified for quality and safety by NSF
Certified Kosher

Directions:
Take two capsules of each blend every day with a meal and a glass of water.